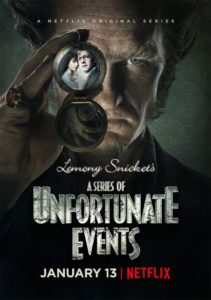 Ordinarily I don't review television programs, but there have been enough exceptions that I'm not breaking a rule at this point, you're just experiencing another edge case.
Netflix's A Series of Unfortunate Events is proving to be delightful. I've watched the first four episodes, and I'm hooked. The series has two of my favorite things in it: clever writing, and Patrick Warburton. Imagine Kronk, or perhaps The Tick narrating in the bleak tones of Lemony Snicket, and warning you at the beginning of each episode that you really don't want to continue.
It's a bold move. When your story, as part of the story, is telling people not to keep reading, or watching, you'd better be doing it in a manner so entertaining that the audience hopes the warnings will continue.
In this case it is, and they do.
There's much more than just dire warning working in favor of this series. Malina Weissman and Louis Hynes are awesome, Presley Smith would chew scenery if given the chance, and over-the-top melodramatic performances are turned in by Neil Patrick Harris, Joan Cusack, Aasif Mandvi, Usman Ally, Joyce and Jacqueline Robbins, and Cobie Smulders, and I'm only halfway through.
Were this series available on Blu-Ray or DVD I'd cheerfully pay season-of-TV-series rates for it. It's not, but by that math the series totally paid for two months of Netflix just by existing.