Howard here…
I couldn't bring myself to see Hardcore Henry. I was too busy, and too stressed out, and this did not look like something that would make me in the least bit less anxious.
Fortunately for all of you, my friend Bob saw it. He started to tell me about it, and I said "stop! Write this down and let me steal it."
That's probably not how he'll tell that story…
---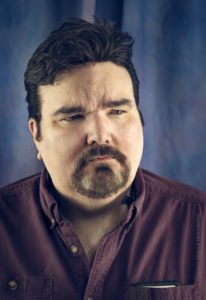 My good friend Howard Tayler asked me to review Hardcore Henry for him, so this will be a crosspost between robertjdefendi.com, schlockmercenary.com, and curiosityquills.com. I'll break it into two sections, the review and an analysis from a more writerly standpoint. The analysis will likely have more spoilers but just a few. Read the sections that are right for you.
The Review
Hardcore Henry is, without out doubt, the most terrible movie I've ever loved without reservation. It's fast-paced. It's a riot. It is a popcorn movie in it's purest sense. Unless you see it in D-Box like I did, and then the seats will fling your popcorn onto the row in front of you. So be warned.
Hardcore Henry is, in essence, the twitch.tv stream of the virtual reality first person shooter that's coming out in ten years or so. Told from the point of view of Henry, a mute protagonist who is brutally murdered during the opening credits (and I mean brutally), the movie begins with the cybernetic rebuilding of his body, the introduction of his wife, the attack of the antagonist, and a blast into the non-stop action of the film. This is a movie where every punch is a literal blow to the camera and every stunt is entirely from the point of view of the stuntman. It takes the criticisms of "shaky cam" movies (which I generally hate), embraces them and takes them out to dinner and dancing. It owns every glorious flaw.
And there are flaws. My my God, are their flaws. From interviews I've heard with Sharlto Copley (Powers, District 9), they embraced these flaws. If these interviews are correct, Copley saved this movie, because the filmmakers wanted to make a serious film, and Copley seemed to understand that if they tried to make a serious film, what they got would be terrible, but if terrible was their goal, then what they got might just be genius. So this movie embraces its warts. The villain is hackneyed and terrible and has inexplicable powers (because technology!). The conceit that explains Copley's character is more the pretense of an explanation than an explanation itself, and the climax involves a solution that seems to be making fun of action movies, video games, and Legolas all at the same time.
And here we come to the caveat of the film. This was, for me, the second funniest movie of the year. I rarely laugh out loud at a film and I burst out laughing at least four or five times during Henry. However about half the jokes are totally straight plays of action tropes. The other half are video game tropes. If you don't get into either of these, you will lose at least half the humor. If it's video games you aren't into, it's probably more than half (the movie literally has a silent protagonist and at one points goes into full tooltip-style quest tutorial).
If these facts sound appealing to you, you will likely love this movie. If you didn't understand half of that last paragraph, you might want to skip it. It aims at a certain few groups of viewers with a laser focus. It ignores the rest, and that's okay. It's pretty clear from the trailer that this movie knows what it is and makes no qualms about it.
But if you get motion sick, maybe watch it from the back half of the theater. Or take motion sickness pills before you go.
The Analysis
The genius of this film is its paradoxical two-fold stance. Most movies that approach this level of absurdity feel like they need to wink at the audience and prove that we are all in on the joke. Hardcore Henry embraces this absurdity, but it never wavers in its viewpoint. It never blinks. It play its tropes with a perfect poke face, and if I can mix metaphors, doubles down. Its rare you see a film display this amount of courage. It knows what it is, and it plays the entire thing entirely straight.
The first time I laughed out loud, Henry was trying to escape in underground tunnels, a subway I believe. He darts down a side tunnel only to see it filled with cops, looking for him. He turns and runs down another tunnel, and for the briefest moment you see not one, but two…two…women pushing baby carriages, blocking the way. Two. I burst out laughing at the movie's own self aware ridiculous moment, but what won me in the scene is that the camera barely registers the two mothers. Henry takes them in and immediately Jackie Chan's his way up the wall. I'm not sure if I was the only person laughing because I was the only person who got the joke, or if I was the only person who saw the joke. I really wonder how much I missed. That other viewers got.
Technically, this movie is very challenging. It is not natural for a stunt man to do the things he has to do in this movie as Henry. A stuntman enters a zen state to do his work. In one scene, a scene pointed out by Copley in interviews, the stuntman playing Henry doesn't just get set on fire and have to hit his mark. He has to be set on fire. Then jump through a window. Then hit his mark. Then catch the appropriate images on camera on the other side. Then perfectly time turning back to catch the other two stuntmen also on fire. The stuntman part is probably old hat. The cameraman stuff is probably pretty old hat too. But doing them both at the same time? It's like trying to chew and cry on camera, two mechanically exclusive actions that can happen naturally but are very difficult to manufacture at the same time.
And as for the special effects, I'm sure there's some CGI cable replacement and non-stunt CGI, but the stunts themselves are spot on and live, and there's a visceral power to knowing that you're seeing what the man himself sees. The moment in the trailer where he drops a grenade in a van, speeding down the road, and the van explodes, hurling him into the air, and he lands perfectly on the back of a motorcycle? There's no CGI in that. No cuts. That scene was filmed live and presented as is. They used a crane, sure, but how hard is that shot even with a crane? I can't imagine getting it in just a few takes, and this movie was too low budget to afford a lot of tries. And that is mentioning all the stuff that's just improved. "Hey, you think we can shoot a running chase scene right up the girders of that bridge?"
Usually I analyze plot and character. This movie has no plot and character. The plot and character are so bad that this almost has to be intentional. The villain's final monologue is only one step above, "Evil plan, evil plan, this is my evil plan, mwah ha ha ha ha ha!" And it's only that so they could play it straight. The movie hits a bare minimum of plot points and twists and then it moves on. It doesn't pretend you're there for anything else.
Hardcore Henry is a prime example of knowing your goals, making your promises, and then fulfilling them with the deftest hand you can manage.
And I can't believe I'm saying this, but it succeeds.