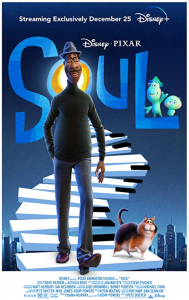 I loved Soul.

LOVED. IT.
The mythos was fun, the music was amazing, and the story had more heart in it—more truth in it—than anything in recent memory.
As an added bonus, if you like jazz, this movie has some amazing things to offer.
It's easily worth a Disney+ subscription. Easily.
Yes, it has death, and after-life, and lots of emotions in it. But one of those emotions is joy, and there's a lot of it to be found, and if ever there was an on-point metaphor for the film, it's that the joy is easily worth the price of subscribing to the less joyful emotions.