You may recall the gushing manner in which I plugged Promise of Blood, by Brian McClellan. That book launched his Powder Mage trilogy, and his career, and I enjoyed following both¹.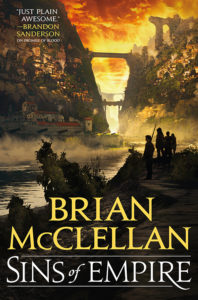 Another trilogy is coming, and after the amazing way he stuck the landing on the first one, I'm simply taking it as a given that Sins of Empire will be a must-read.
That cover art? Click on it to for a closer look. Also, this is kind of the first time it's been seen. I feel special. I also feel special to have Sins_of_Empire_1.2.docx sitting right here taunting me. I opened it thinking I'd been sent a sample chapter, but no, I have the whole thing. I cannot afford to be sucked into an entire book right now. I must be strong.
You can pre-order it today², and you can even pre-order a signed copy directly from the author. It is slated for release on Tuesday, March 7th, of 2017.
If you like the Powder Mage books, and want to support Brian, his editor, and the cover artists in their ongoing creation of them, pre-ordering is totally a thing you should do. Books literally live or die on the first week of sales, which is where pre-orders show up.
Here's the back-cover copy:
A world on the cusp of a new age…
The young nation of Fatrasta is a turbulent place — a frontier destination for criminals, fortune-hunters, brave settlers, and sorcerers seeking relics of the past. Only the iron will of the lady chancellor and her secret police holds the capital city of Landfall together against the unrest of an oppressed population and the machinations of powerful empires.
Sedition is a dangerous word…
The insurrection that threatens Landfall must be purged with guile and force, a task which falls on the shoulders of a spy named Michel Bravis, convicted war hero Mad Ben Styke, and Lady Vlora Flint, a mercenary general with a past as turbulent as Landfall's present.
The past haunts us all…
As loyalties are tested, revealed, and destroyed, a grim specter as old as time has been unearthed in this wild land, and the people of Landfall will soon discover that rebellion is the least of their worries.
Yup. I'm in.
---
¹Do I enjoy the books more than I enjoy the Brian? It's a tough call. He's good company, except when he's also in the company of his bees, or joining Sam Sykes in a long-winded account of their (dubious) heroism during the Yeti Wars. 
²Pre-order links!