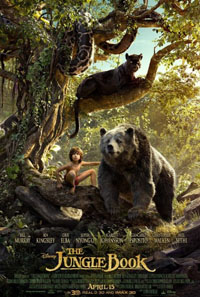 There's no way to film the Mowgli stories from Rudyard Kipling's The Jungle Book absent the influence of the 1967 Disney classic, which casts a long shadow. Several such films have been made, and most of them didn't work very well at all. 2016's The Jungle Book does work, however, and it does so with surprising grace and beauty.
And joy.
I really loved this film. It took a while to win me over, but Bill Murray's Baloo the Bear was the perfect re-imagining of the character, and King Louie's remake as a gigantopithecus (an extinct genus of giant orangutan) was made complete when Richard Sherman, who co-wrote "I Wan'na Be Like You" with his brother Robert, returned to the 40-year-old piece to add lyrics.
Which were performed by Christopher Walken.
Murray and Walken had their work cut out for them, however, because newcomer Neel Sethi very nearly ran off with the whole show. Barefoot. And mostly naked. At age 12.
(Note: I could continue to gush about skills on display here, including those of Idris Elba and Lupita Nyong'o, who were terrifying and inspiring, respectively, but it's a long list.)
Jon Favreau directed, and I have to say, I'm impressed. He managed to reconcile Kipling's 19th-century morality-play view of the jungle with more modern sensibilities, including the St. Louis Jazz feel introduced to the Kipling mythos by Disney in 1967, and he did all this with a cast of characters that was almost entirely computer-animated in a way meant to fool us into thinking they were actual animals.
2016's The Jungle Book enters my list at #3, clearing my Threshold of Awesome. I bought the soundtrack, and will probably pick up the Blu-Ray when it drops.