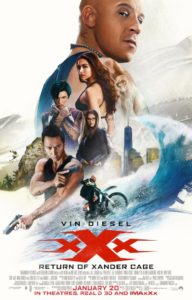 XXX: The Return of Xander Cage took some time to get moving, and the first half had enough skin in it to have nearby Bond films politely requesting that Mr. Diesel not track sand through their garden. Somewhere around the mid-point the movie engaged for me. I think it may have been when I realized that they were going to attempt an ensemble piece, and that they might just pull it off.
And they did! By the end it really was an ensemble piece, giving plenty of camera time to Donnie Yen, Deepika Padukone, and Ruby Rose¹. It also repented nicely for the Ice Cube installment of the Triple X franchise with some of the smoothest ret-conning² I've seen in a while.
The second half of the film saved the movie from the first half, but it made me sit up and ask why they bothered with the first half, and imagining the ways they could have done Act I more entertainingly. That right there is what's keeping XXX: The Return of Xander Cage from clearing my Threshold of Awesome. And that makes me sad, because the Deepika Padukone/Ruby Rose scenes¹ in Act III deserve to be above the threshold.
---
¹ I would watch an entire season of TV built around Padukone and Rose being gunslingers, perhaps headlining a full ensemble of ladybro³ wit, wile, and badassery.
² So smooth it might not even be considered a retcon, really. Spy movies can do this well by giving us the "you don't have the whole story" moments, and it's not even cheating when they do it right.
³ "Ladybro" is a term I first heard from editor Navah Wolfe, and I might not be using it correctly. I think it means "all X-chromosome buddy-cop-style relationships." If it doesn't mean that, then I need a different word that does.