As part of the Random Access Memorabilia (Book 13) Kickstarter we'll be doing a ship coin for Bristlecone, which featured prominently in books 12, 13, and 14.  I'll be drawing this ship again for the coin, and doing so for the first time in a couple of years at least.
In order to get it right, I made a model sheet from some of my favorite drawings of the ship.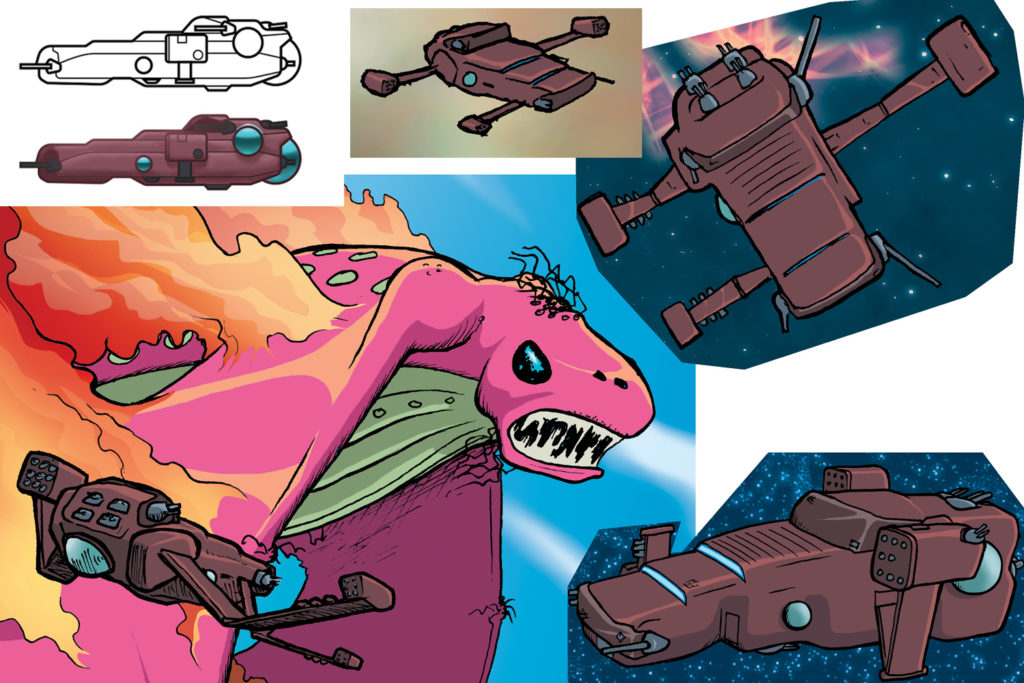 The image in the upper left was rendered by Jeff Zugale¹, who did all the ship design work for Planet Mercenary. Everything else was my line art.
I'll probably be drawing the ship using a camera angle similar to the upper center, but with more detail, like the images in the lower left (in front of the tufted wing shark¹) and lower right corners.
In the Planet Mercenary RPG, Bristlecone is defined as a Celeschul Orbital Foundries Wyvern-class vessel. The hull and A.I. were built and integrated in the 26th century, but improvements in annie-plant tech led to numerous upgrades. The full history of the ship won't fit on the coin, but we'll hit the highlights.
The tufted wing shark² won't appear on the coin anywhere.
---
¹ Jeff "Starshipwright" Zugale is doing an art book Kickstarter WITH SPACESHIP TOYS right now, and you should go look at it.
² McConger named the tufted wing shark "Kong," but xenobiologists ignored the precedent he attempted to set and went with something more descriptive.³
³ At least to humans, who know what the word "shark" means.