I don't watch much TV. We don't have cable. If a program gets good reviews from my friends, I'll pick it up on Amazon Prime, or I'll wait until it hits Netflix. Sometimes I'll buy DVDs and Blu-Rays.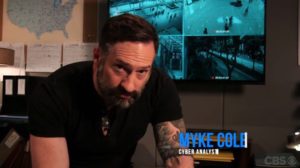 My friend Myke Cole, whose books I've plugged in blog posts of yore¹, is featured in a reality TV program from CBS called "Hunted." (Episode 1 is currently free to stream from CBS.²) Reality TV is pretty much my least favorite form of TV, but Myke is awesome so a gave it a shot.
No regrets. None.
A team of investigators, of which Myke is a part, break out all the tools of their trades to track down nine two-person teams of runners, who are playing the part of fugitives, with a $250k prize awaiting them if they can stay hidden for 28 days. We follow some of these teams each week, and each episode thus far has had at least one capture in it.
I have no idea what the actual mechanics are behind this game, but the tools and skills on display are the real deal. It's a lot of fun to watch, and it's entertaining to wonder how long you'd make it before Myke tracks your "untraceable" burner phone from a convenience store receipt and a traffic camera. (Answer: I can remain hidden for at least three meals if you give me a 1-hour head start. That's probably it.)
Here's the thing: The camera loves Myke. Several times during the first two episodes I noticed that shots were framed to include Myke in the background for no other reason than to make the shot look better. The costuming department is dressing him in t-shirts made of little more than paint and hard living, and I am forced to concede that not only is my friend Myke a fine human person and an outstanding writer, he looks really, really good on TV³.
---
¹ Here, here, and here. No yore was harmed in the reposting of these links.
² We've subscribed to the show via Amazon Prime, which is my least favorite part of this whole thing. Their digital delivery of HD is full of MPG artifacts that I never see from NetFlix. I'll take MPG artifacts over commercials, but it stings to do that after spending actual real money on HD.
³That paragraph won't embarrass Myke. His already-thick skin has been hardened under regular abrasion provided by his friend and mine, Sam Sykes, on Twitter. The Sam and Myke show (as I like to call it) is worth following: @MykeCole and @SamSykesSwears.