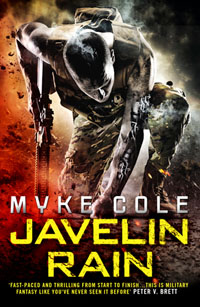 Javelin Rain is the sequel to Myke Cole's Gemini Cell, and if you thought the first book was riveting, you'll likely find Javelin Rain to have even more rivets, and maybe some arc welding. "Gripping" is a word that gets used a lot. Javelin Rain was definitely that.
Myke's Shadow Ops series is shelved as Urban Fantasy, which is the bookshelf genre that bookstores use to tell people that the book features our world, except with magic in it. Bookshelf genres only really tell you what group of readers the booksellers are trying to aim the book at, and Javelin Rain could be very accurately aimed at fans of thrillers, horror stories, and science fiction—not to mention aficionados of military fiction, and anybody who likes to see a moral quandary laid bare on the page.
If you like any two of those things, you'll enjoy Javelin Rain. If you like some of those things, and hate some of the others, Javelin Rain may force you into that uncomfortable place where you have to reconsider your tastes before growing a bit as a reader.
Myke's debut novel, Control Point was described by Peter Brett as "Blackhawk Down meets The X-Men." The best mash-up logic I can come up with for Javelin Rain is "Steven King and Brandon Sanderson perform necromancy on Tom Clancy."