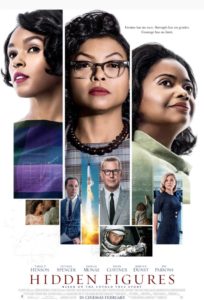 I loved Hidden Figures. It was beautiful, and uplifting ,and pretty much the perfect first-film-of-the-year for me. It clears my Threshold of Awesome, and reminded me of how awesome actual human people can be.
It also reminded me of how far we've come since the decade in which I was born, and how courageous we had to be in order to make it that far. And that's pretty important because we have a long way to go, and more courage will be required.
The leads, Taraji P. Henson, Octavia Spencer, and Janelle Monáe, were all powerfully convincing, and Kevin Costner finally got to make up for Pa Kent, which I shouldn't have been holding against him, but that's a different story altogether. I also loved seeing Aldis Hodge¹ play support-staff for someone else's genius, and Mahershala Ali² be so completely different than the Cottonmouth character he sold to me in Luke Cage. 
I wish we'd seen just a little bit more of the mathematics, enough for me to fully grasp the enormity of the problems faced by the space program, but that's a tough call to make for filmmakers. Confuse the audience for just a few seconds, and you run the risk of losing everybody. So, you know, they probably made the right call.
---
¹Hodge played Hardison in Leverage, and I cannot un-see him as a hacker with mad grifting skills.
²Cottonmouth was pretty much my favorite character from Netflix's Luke Cage. Shame about that mic stand thing.