Sandra and I will join Jim Zub and the Hypernode Corps of Conventioneers at GenCon Indy this week. You can find all of us at Booth #1343, an endcap installation featuring two hundred square feet of pure¹ magic.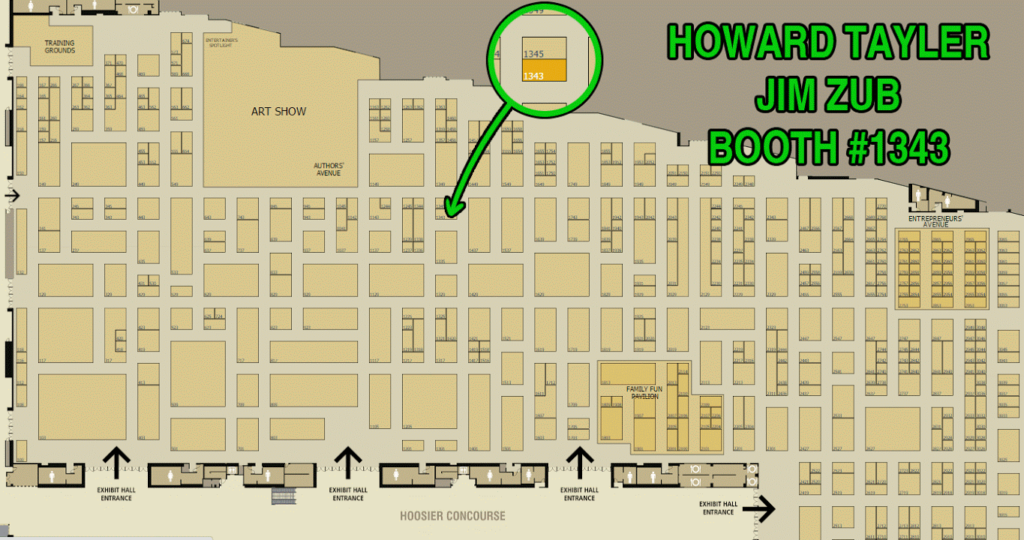 Magic², you say? Absolutely! I have so much work on my plate that I'll be spending much of my booth time penciling and inking comics. I'll happily set that aside to do sketches in your books, so if you're attending GenCon this year, please stop by!
Here's my schedule:
Thursday
10:00am, Causus: Writing What you Don't Know
11:30am-6:00pm*: Booth 1343
Friday
10:00am-5:00pm*: Booth 1343
6:00pm, Chamber: Writing Excuses Podcast Recording
Saturday
10:00am-3:30pm*: Booth 1343
4:00pm, Capitol 1: Writers and Mental Health
6:00pm, Chamber: Comedy Gold (my solo presentation)
Sunday
10:00am-4:00pm*: Booth 1343
If you're trying to decide which of my panels to attend, I suggest "Comedy Gold." That's my solo presentation for writers who want to learn to be funnier. It's all about refining the joke, and the presentation itself will probably be pretty entertaining whether or not you write.
The Writing Excuses³ session is also going to be quite cool. Dan Wells and I (the only two WX cast members at GenCon this year) will have several different guests on during the two-hour block, and our interviews with them will range across several topics. What will it be about? We don't actually know yet.
---
²Not "Magic: The Gathering." I don't play. Sorry.
*I do take breaks from time to time. Stop by during that block, and if I've gone for a walk, the folks there will let you know when I'll be back.
³If you're not yet familiar with Writing Excuses, it's a podcast for Writers which we've been doing for just over eight years now.