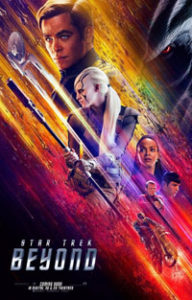 If you love Star Trek, I'm reasonably confident you'll love Star Trek Beyond.
For reasons whose explanations would require spoilers¹, I did not quite love the movie, but I certainly liked it a lot. Sandra loved it unconditionally. It's certainly worth the price of the movie ticket and the popcorn, and if friends were intent upon dragging me out to see it with them, I wouldn't play dead-weight and force them to work for it. I'd walk along quite happily.
Star Trek Beyond enters my list just below the Threshold of Awesome, and I'm sure I'll be seeing it again on Blu-Ray, and it's quite possible that I'll consider it completely awesome at that point.
---
¹I'll hide the spoilers over here.