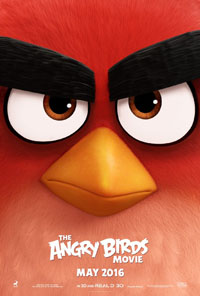 The Angry Birds Movie is better than it has any reason to be. Lots of movies pull this off, but this movie manages to turn a mobile puzzle game into delightful cinema. That divide is huge, the chasm that must be cleared is—no, I'm not going to use that metaphor. The slingshot joke is low-hanging fruit. You can all see it coming, and the film deserves better than a metaphor pulled from the bottom branches of the tree.
That principle, "don't settle for the low-hanging fruit," is what makes The Angry Birds Movie so delightful. The story follows a predictable form, and there are tropes that simply must be present for the story to flow, but the filmmakers were not willing to settle for simply filling out the forms and making it pretty. And I'm not talking about "exceeding low expectations." No, this film is what happens when a storyteller who takes pride in their work seeks to exceed their own expectations.
For me, The Angry Birds Movie is the second surprisingly enjoyable video game adaptation this year. It gives me hope—actual hope, complete with giddy anticipation—that the Warcraft movie can clear the "better than it has any reason to be" bar with the same amount of air.¹
The Angry Birds Movie clears my Threshold of Awesome, and yes, if you look at my list, I did, in point of actual fact, have more fun during that film than I did during Captain America: Civil War.
---
¹If there are pigs in the Warcraft movie, I want that movie to clear the bar, then sail across the screen and knock down their houses­².
²THERE I got it out of my system.