With this most recent update, Schlock Mercenary has run for twenty years.

Daily, with no missed updates, no re-runs, and no guest strips…
From June 12th of 2000 to June 11th of 2020, that's twenty full years. (The twentieth anniversary will be on June 12th, because math.)

The strip has come a long way in twenty years. I've gotten a bit better at this thing, and although "keeping it fresh" has always been my goal, I will admit to reusing a punchline or two across the decades.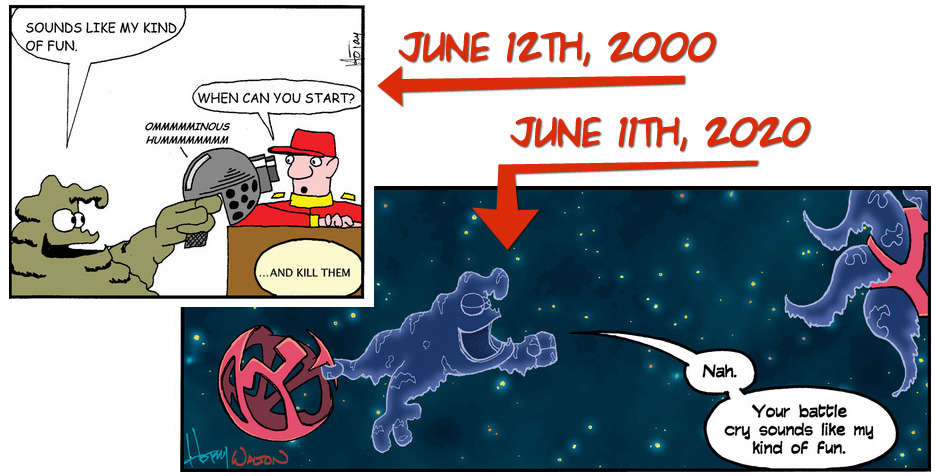 But Schlock Mercenary isn't all me. Since the very beginning, Sandra Tayler has been my alpha reader, and since 2006 she's also been the editor and publisher.
Oh, and do you see that second sig in the June 11th strip? Travis Walton has been the Schlock Mercenary colorist for more than half of the strip's life, and he's a big part of why it got better while still maintaining the schedule.
When I first dreamed this thing up, I knew I was writing the comic strip I wanted to read. It's changed a lot over the years (no surprise, as I've changed a lot), but after all this time I'm still the strip's biggest fan.
I could write at great length about why that is, but for now I'll just leave it at this: thank you for making it possible for us—me, Sandra, and Travis—to have jobs making comics. I might be the strip's most obsessed, all-consumed-by-Schlock-Mercenary fan, but my love for it isn't what actually pays the bills.
Nope. That'd be you.
Thank you!