Would you like to be reading Schlock Mercenary ad-free? How about being able to read it a week at a time, and in a higher resolution?
Join the Schlock Mercenary Patreon, and for just $2.50 per month, the entirety of the Schlock Mercenary archives will be available to you for week-at-a-time, ad-free browsing¹. And at $5.00 per month, you'll be reading in retina resolutions².

What does week-at-a-time browsing look like?
Well, it's hard to deliver the experience via a screen shot.  We had to pull back pretty far to show you just how much content is on each page, and from back here it's kind of hard to read.
You'll be scrolling down (probably with the mouse-wheel), uninterrupted by ads, and when you reach the end of the page you can arrow-key (or click "Next") to advance to the next big stack of Schlock Mercenary.
What's the difference between the regular and high-res versions of the strip? Math says "65% more pixels," but it's probably better to show what that will look like. Here's a side-by-side comparison, using the fourth panel from Thursday, January 23rd.
(NOTE: The blog engine may have up-scaled or down-scaled the sample image, depending on how your browser requested the flow of the page. Click on the image for an exact, pixel-for-pixel version of the screen captures.)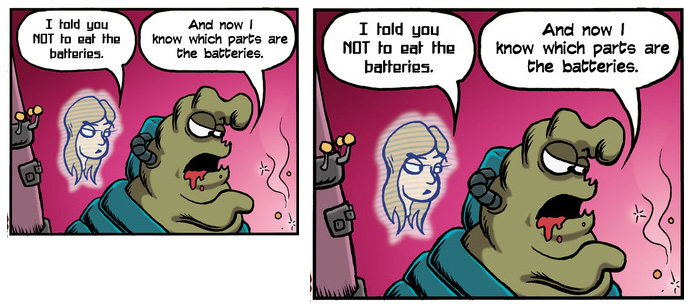 There are other benefits to becoming a patron, like digital goodies³, and front-of-the-line, pre-order access to new merchandise. Head over to patreon.com/schlockmercenary and have a look.
---
¹ Ad-free, week-at-a-time, and high-res browsing will require you to link your Patreon account to Schlock Mercenary. This is done securely, via the Patreon API. Our privacy policy has more information. 
² High-resolution browsing requires the use of a browser capable of requesting the high-res images. As of this writing that means almost all mobile browsers, MacOS browsers, Google Chrome, and Microsoft Edge.
³ This blog post serves as a fine reminder to Howard and Sandra that it's time to put up some more Patreon-exclusive digital goodies.