A new season of Typecast RPG begins tonight¹. The party must leave the snowy wastelands (which we all hated) and pay a visit to the Verdenfleet (which hates all of us.)
There will be big changes for some of the characters, including a bit of apotheosis-justified retconning.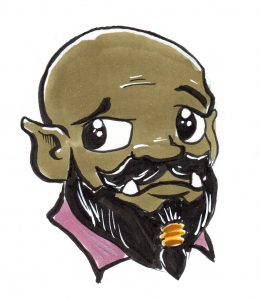 Dungeon Master Dan Wells and I discussed my bard's character last month, and have determined that I play him more like a cleric. So, instead of leveling from Bard 4 to Bard 5, or Bard 4 to Bard 4/Cleric 1, we're using his meeting-with-deity from the end of last season to justify leveling him from Bard 4 to Bard 3/Cleric 2.
The show starts at 9pm Eastern, and in addition to all the fun role-playing from Brian, Mari, Ethan, Charlie, Dan, and me, there's an art-cam! And I got some markers that have GLITTER.
Join us! Follow and subscribe at twitch.tv/typecastrpg!
---
¹ Assuming "Tonight" is Tuesday night, January 7th.