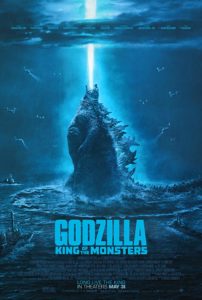 I'm not sure what I was expecting from Godzilla: King of the Monsters, but it neither surprised me nor disappointed me, and I enjoyed it quite a bit, so I guess what I was expecting was a Godzilla movie with lots of monsters in it.
The show stealers for me were Mothra, Millie Bobbie Brown, and Aisha Hinds. All three were so compelling on-screen it was hard to pay attention to what the other actors were getting up to. You might take issue with Mothra being grouped with "actors," but the film's credits very clearly listed Mothra as being played by "herself."
My only two¹ complaints were that King Ghidorah seemed less realistically-rendered than the other monsters, and the orchestral score fell a bit short of the utter brilliance delivered by Alexandre Desplat in the 2014 Godzilla film. YMMV, of course.
Godzilla: King of the Monsters clears my Threshold of Awesome, and will definitely be going in the Blu-ray collection as soon as it releases.
---
¹ Okay, I suppose I have a third complaint, which is that the movie didn't have enough Kong in it, but since we're getting a Kong vs. Godzilla movie in 2020 that complaint falls into the category of "I am impatient," and it can't fairly be levied against this film, which already had plenty of monsters in it.