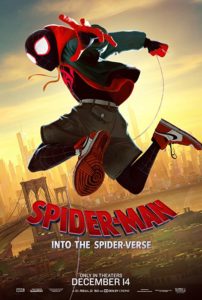 Filmmakers, especially those working on the Marvel Cinematic Universe, have done a fine job of showing us what super-hero movies can be.
Spider-Man: Into the Spider-Verse, shows us what a comic-book movie can be. Also, it demonstrates the difference. A super-hero movie might be based on stories told in comics, but a comic-book movie tells its story the way a comic-book tells it, using tools that movies don't often use.
Marvelously, no, miraculously, it did that without being silly, or looking down its nose at the art form in the way the 1960's Batman TV series seems to.
I could say more, and do so at great length, but to my mind this film expands the very syntax of cinematography, making it difficult for me to describe the experience to anyone who hasn't experienced something like it.
As I can't think of anything else like it for you to experience, I guess you'll just have to go see it.
Spider-Man: Into the Spider-Verse clears my Threshold of Awesome, and additionally clears my "let's spend enough money so all four kids can see it in the theater" threshold.