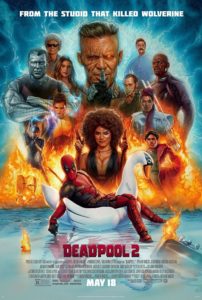 Deadpool 2 was more fun and less uncomfortable than 2016's Deadpool. At least for me. YMMV, of course. The film unmistakably earns its R-rating, so it's not one to bring the kids to.
That said, it does clear my Threshold of Awesome, thanks to some final scenes putting it over the top. Yes, there's a scene interrupting the early credits, and although there's no after-the-credits scene, stick around for the audio at the very end.
In terms of tone, I'd categorize Deadpool 2 as an action-comedy in the same vein as Spy and The Hitman's Bodyguard (both of which I really enjoyed.) And then there's the way Wade Wilson breaks the fourth wall¹, allowing him to tell jokes other movies can't get away with like commenting on the soundtrack².
---
¹ Deadpool knows that the Marvel Cinematic Universe exists, and that he's not part of it. If you're heavily invested in the Avengers films Wade Wilson's commentary may be very satisfying.
² Children of the 80's may get a bit more out of the musical juxtapositions than later generations will. My daughter loved that the music was weird and out-of-place. I loved that it was weird and out-of-place, and yet perfectly suited for the scene because I remember the music video.