On Monday, June 12th of the year 2000 the very first Schlock Mercenary strip appeared on the web.
Yesterday, Monday, June 12th of the year 2017 marked the seventeenth anniversary of that start date—seventeen years of uninterrupted¹ daily² updates here at schlockmercenary.com.
That I am now in my eighteenth year of doing this stands as evidence of ongoing good fortune. I've enjoyed seventeen full years without any sort of debilitating injury or crisis preventing me from working for more than a couple of weeks at a time. I've gotten sick and been injured, of course, but I keep getting better with sufficient time to spare.
At some point this streak will end. That point lies in the mists of a hopefully-distant future, and is not today.
Today I am making comics.
(Just as soon as I finish this blog post.)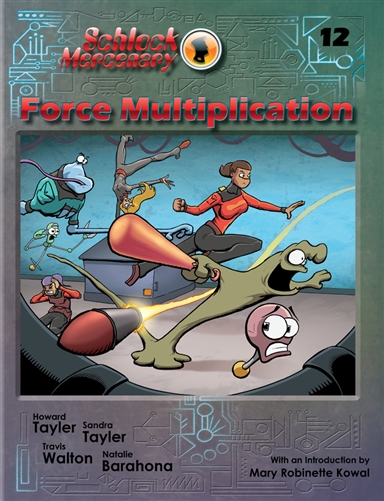 If you would like to celebrate the beginning of Schlock Mercenary's eighteenth year, you might consider sharing the strip with a friend. But whatever you do, don't send them back to the very beginning. That would be cruel. Start here, with Book 12.  Which, by serendipitous convenience³, is the most recent of the Schlock Mercenary stories to appear in print.
How long will Schlock Mercenary continue to run? The over-arching story is in its final act, and will draw to a close soon, probably  in Book 19. But on the day following that big finish there will be another update, and another one the day after that. Those will launch a new story, featuring some characters you know, and a universe you think you know, but let's not get ahead of ourselves. There is a satisfactory conclusion coming up, and you can enjoy it secure in the knowledge that it won't end the delivery of daily strips here at schlockmercenary.com.
---
¹ There have been service interruptions, of course. Like that time the data center's UPS failed, and a fire destroyed part of the facility. But Schlock Mercenary has updated every day, and with a bit of back-up hosting has never been unavailable for more than a few hours at a time.
² That's 6,210 strips. Yes, the image files are backed up in more than one place. 
³ A friend who also happens to be flush with the good fortune of a spot of discretionary income, might purchase that book as a gift. Shared links are lovely, but a thing made out of colorful paper is a thing that will be remembered.