The cautionary tale, in which we are warned that something bad might happen, is one of science fiction's most venerated traditions. Another one, of similarly honorable and established pedigree, is the sense of optimistic wonder.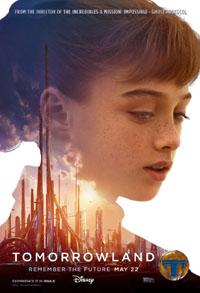 Tomorrowland is both of these, and more because it pits them against one another from the very first act. It's also many other things, including, and I'm not sure how I feel about this, an opportunity for Disney to turn "It's a Small World" into a ride more like Pirates of the Caribbean with the aesthetics of Space Mountain and retro-futurism.
It's troubling, and delightful, and though it clumsily wields plot devices, and is downright silly in some places, I found myself sitting back at the end and realizing that the tropes and absurdity were there on purpose, and the clumsiness was more akin to that drunken master martial art.
Tomorrowland is definitely a film that my tribe of futurists and science fiction aficionados should see, and I expect us to argue passionately about it under the right (wrong?) circumstances. This film was made with us in mind, and while it's not exclusively for us, there are things in there that the pop-culture, Johnny-come-lately science fiction fan will miss entirely, and I really like a film that will go out on that kind of a limb.
It clears my Threshold of Awesome and comes in at #4 on the fun-in-the-theater scale. More than that, however, it spoke very powerfully to Sandra and to me, and it's one we'll be picking up on disc when it's out.
For the record, I want one of those pins. Not because I want to go to Tomorrowland (though I do) but because I want to be seen as somebody who wants to go there (which I most certainly am.) It's silly, perhaps, but it's one of a very few brands I'm actually willing to wear.