In my previous post I said that everything was done except the pictures. Well, this morning I finished the last of the illustrations for The Unofficial Anecdotal History of Challenge Coins. This one is definitely my favorite: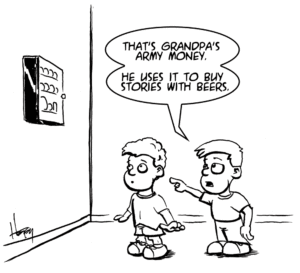 Everything has been handed off to Sandra. An update will go out to Kickstarter supporters first, and then the PDF will go live, probably by Tuesday of next week.
Yes, we're delivering this about eighteen months later than we wanted it to, but we ARE delivering it. We're sorry to have kept everyone waiting, and we look forward to sharing the stories that people have shared with us.
(We will not be using those stories to buy beers.)