Myke Cole burst into my reading queue when I met him at Lunacon in 2012. I devoured his debut novel, then waited patiently for the follow-ups, which I consumed with aplomb.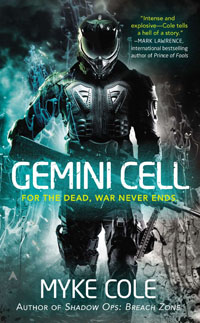 Gemini Cell is Myke's fourth foray into the 21st century's "Great Reawakening," a setting in which magic has come back into our world, and the military's best and brightest have blended it with modern warfare to create squads, platoons, companies, and entire battalions of trained, disciplined, and sorcerous soldiers. Which is good, because their enemies are every bit as well equipped. It's a compelling setting, but this time around we're seeing it differently.
In Gemini Cell we get to see the beginning of it all. Our protagonist is a SEAL at the top of his game, but it's a completely non-magical game, and he has no idea that his current operation will cross paths with a magical supply line.
The story is a powerful one, and to my eye it takes some oft-maligned tropes of military adventure fiction and shows us how those things are supposed to be done, especially the "prequel" trope. That might technically be what Gemini Cell is, but it stands quite well on its own, inviting an immediate sequel or two while leaving plenty of room for the extant Shadow Ops series.
Gemini Cell releases on Tuesday, January 27th, 2015.