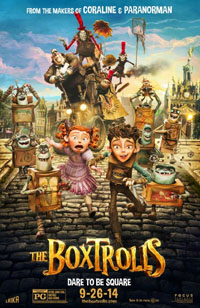 The Boxtrolls is quirky, funny, dark, and a little disturbing in all of my favorite ways. I enjoyed it, but I can see lots of places where folks might not think it's their thing. Then again, there are probably other folks who will love it a lot more than I did. It comes in just a hair below my Threshold of Awesome.
It's dark for a kids' movie, but it's definitely a kids' movie. You can tell because all the adults are either evil, disinterested, or too stupid to help, leaving our young heroes in charge of fixing things themselves. A trope, yes, but handled in ways that I found very satisfying.
Did I mention that this film is beautiful? Oh, my. I don't even know where to start. Even the ugly bits were beautiful. This is one that I may want to own on Blu-Ray just so I can freeze scenes and stare deeply into the designs. On that note, though, the poster above does it a great disservice. It hints at some of the energy of the film, but fails completely to catch the spirit or the beauty of it.