Per my Twitter feed, The Expendables 3 is better than either of the first two installments in the series. The first was goofy and ridiculous, and not in great ways. The second took itself too seriously, and ended up being goofy, ridiculous, overblown, and clumsy. This one, though, struck just the right balance for an action movie. I had fun.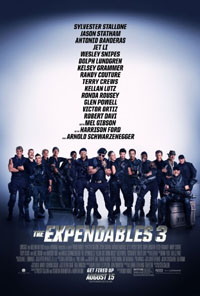 The film does not clear my Threshold of Awesome, however. The predictable dialog really wore on me, especially when a character was pausing for dramatic effect, and I knew what he was going to say next. Also, the final act's conceit was one of those ridiculous supervillain tropes — in this case it's the one where our bad guy has lured the heroes into a trap, and instead of just pouring overwhelming force into the kill box, he starts the timer on an explosive.
What follows that countdown is purely predictable, but it also shapes up to be a nice fulfillment of all the movie's earlier promises. They shoot all of the things and do all of the stunts and we have our huge cast of readily-recognized hitters finally working together.
The stand-outs for me in this film were Ronda Rousey, who made a much better transition from MMA champion to actress than Gina Carano did, and Antonio Banderas, who was hilariously awesome. The Expendables 3 comes in at #15 for me for the year thus far.