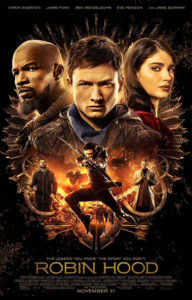 On a hunch, I decided to treat Robin Hood as a secondary world low-magic fantasy in which I'm allowed to forget everything I have learned about Earth's Europe's seventh century weapon technology, and pretend the whole thing is happening on a different dimension's medieval Earth.
It was a good decision. If you're going to get knocked out of the film by a repeating ballista weapon emplacement which can be operated by one person, or by English longbowmen conducting urban warfare as if their bows are tactical carbines, you'll be throwing your drink at the screen before the end of the first act. As I own a refillable mug for the local megaplex, that would be a great loss for me. I asked "why don't they have their swords out?" exactly one time, then took a couple of deep breaths and one deep sip of Coke Zero¹.
Letting the technology be whatever it wanted to be was certainly helpful, but ultimately this retelling of the Robin Hood myth made the mistake of straying from the mythos in order to be unpredictable, and managing to be predictable anyway.
That said, the action scenes were pretty beautiful. It was Robin Hood filmed with the sort of cinematic fight choreography we've grown accustomed to seeing in Marvel movies. Egerton's Robin Hood felt like a nod to Tom Holland's Spider-Man². The archery was quite cool, especially when Robin is schooled by Jamie Foxx's Little John on using his shooting hand as a quiver. Queuing up four or five arrows at a time, and then firing them rapidly, without reaching for more arrows, made beautiful sense. Whether or not it's practical, it worked far better than the old "fire two arrows at once" thing.
While I'm whether-or-notting(ham?), let me point out that whether or not you think this film is worth seeing in theaters, you probably don't get to. That ship sails soon, which means renting³ Robin Hood (2018) when it's available. Ultimately, the film did not disappoint me, but I'd set my expectations correctly for enjoying it. It comes nowhere near my Threshold of Awesome, but it was fun.
---
¹ Yes, yes, it's Coke Zero Sugar, but you can't expect me to say the word "sugar" when there isn't any in my drink. Until waiters start getting my order wrong, those two syllables are superfluous.
² Just so we're clear, Tom Holland's gymnastics put him in a class by himself in every sense of that phrase. Egerton can nod at it, but I don't see him doing back flips.
³ As an alternative to renting, I'll often wait until a film hits the discount Blu-Ray bin, because it only costs a tiny bit more, but it gives me a permanent souvenir of my questionable life choices.