I'm headed for the eastern Caribbean with the Writing Excuses team aboard Royal Caribbean's Oasis of the Seas¹. The blog posts here may go a little stale, as updating the blog from the ship² is time consuming.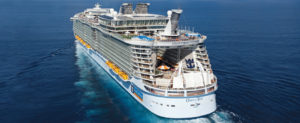 We board on Saturday, and return a week later. If you want to play the "where is Howard" game, you can follow this link to track the Oasis of the Seas. I'll probably be using the same link (connectivity permitting) to figure out where the heck we are.

We are not going to be anywhere near icebergs. Also, there are plenty of lifeboats. Nobody makes claims like "unsinkable" anymore, but Oasis of the Seas can boast about being five times larger than Titanic.
When her keel was laid she was the largest cruise ship in history. Today she's within 18 inches or so of that spot, but has been bested by only two other ships (also owned and operated by Royal Caribbean.)
Before boarding the giant ship I need to stock the buffer with comics for you to read, and I need to pack big stacks of work that I can do while I'm at sea. It's not a proper vacation if I'm not getting some work done, after all.
---
¹Oasis of the Seas seems like an odd name, but since the ship has fresh water in the middle of a "desert" of non-potable salt water, I suppose the definition of "oasis" can be stretched to fit. 
²"Ship," not "boat." Crew members and staff are happier when you say "ship."