We just got word that our pallets of Force Multiplication: Schlock Mercenary Book 12 will be arriving sometime "in the next week or so." If you want your copy shipped soon, now is the time to place your order.
A great many of you have already placed your orders, and are reading this and asking what OTHER book you can maybe order. Well, as it happens, my friend Bob has a book out! You may remember Bob from his guest-review of Hardcore Henry. That's his blog style, and while it's not the same as his literary voice, the snark does shine through.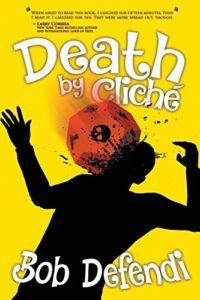 Death by Cliché is Bob Defendi unchained. It is the story of a game designer who attempts to sneak out of the worst role-playing session ever, and ends up in the game itself, starting with a room "lit by flaming brassieres."
This may be misleading. Death by Cliché is not full of puns and dad jokes¹. It's a funny, frightening, poignant, and exhilarating exploration of a world in which RPG clichés and sloppy game design are the governing principles, the unseen hands pulling the strings.
UPDATED TO ADD: My 21-year-old daughter and 13-year-old son both grabbed copies² from Bob last night. Five hours later—FIVE HOURS LATER—they both got grouchy when we insisted that it was time for lights to be out so the old people in the house could go to sleep.
Which is to say that my review may not have gushed to the level that this book deserves for some readers, including a junior majoring in illustration and a junior-high student majorly invested in Minecraft.
---
¹There are puns and dad jokes in the book. I won't lie. They're there. Not everywhere, but there. Usually as the set-up for something that is actually funny.
²He only meant to give us one copy of the book at Writing Group on Thursday, but he had a stack, and my children, even the adult ones, can be grabby.