FanX, the spring installment of Salt Lake Comic Con¹, is this Thursday, Friday, and Saturday. I'll be in Artist's Alley with my friend Jim Zub at tables  Berry 5 and Berry 6. Jim and I also have three panels together! My schedule is posted here on the official FanX site, and I'll break it out for you below.
If there's Schlock Mercenary merchandise you'd like to acquire at the show, email schlockmercenary@gmail.com and Sandra will make sure we've got it on hand. we're packing a little light this year, because there's just not much room at these tables, but that doesn't mean we can't bring the stuff you want².

Thursday
1:00 PM—Why Webcomics Matter, 255E: Aneeka Richins, Howard Tayler, and Jim Zub talk about what twenty years of webcomics³ have meant to the industry, and the world
3:00 PM, 255E—Funny Books Can Actually Be Funny: Howard Tayler and Jim Zub tell you how to write comedy for comics
5:00 PM, 255F—Real Science in Sci-Fi Literature and Film: Charlie Pulsipher, Sarah E. Seeley, John Steiner, Eric Swedin, and Howard Tayler help you put enough science into your writing to sell the story to the reader.
Friday
12:00 PM, 255E—RPGs and Empathy: Aaron Burton, Laura Hickman, Tracy Hickman, Whitney Johnson, Josh Lee, Daniel Swenson, and Howard Tayler discuss how role playing games can turn us into better people. For real.
Saturday
2:00 PM, 255C—Spotlight on Jim Zub: Howard Tayler holds Jim Zub's feet to the flames and leads the audience in a quest to find out everything there is to know about the enigmatic word-putting storysmith behind the Skullkickers, Wayward, and Samurai Jack comics
6:00 PM, 250A—Writing Excuses, The Panel: Brandon Sanderson, Howard Tayler, and Dan Wells talk about writing, and then go meta by talking about talking about writing. Lots of talking, but it's going to be way more fun than I just made it sound.
Table Times
We don't have posted table times yet, but Jim and I will definitely be there a lot, along with Stacy and Sandra. If we're not there (like, if we need to put food into our selves) we'll make sure to have a sign up letting you know when we'll be back.
Artist's Alley is literally° the first thing you hit if you come through the General Admission door on the south (the left side of the map). If you follow the crowd due north along the avenue between the tables and the booths, Berry 5 & 6 will be the fifth and sixth things you see on your left.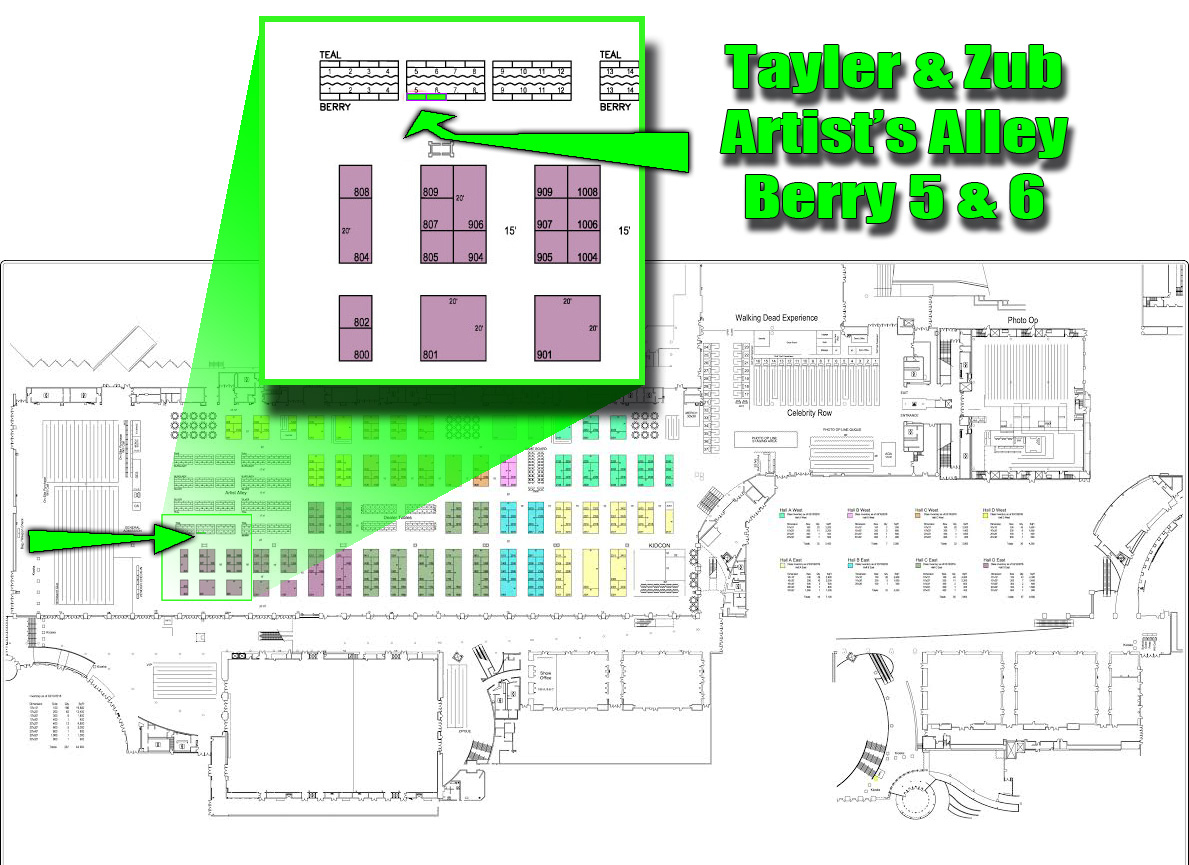 We should be pretty easy to find.
---
¹ Full name: "Salt Lake Comic Con Fan Experience," which is too long and kind of confusing. FanX will get you there.
² Assuming that what you want is something we still have in stock at the warehouse, of course.
³ Actually, it's been twenty-three years. As far as I know, the first comic to be posted online for http access via web browsers was Doctor Fun, which appeared in 1993. But even if something beat Doctor Fun by a few weeks or months, 1993 was when the Web was born, so that's our start date.
° Two things here. First, we mean "literally" as in "actually." Not "literally" as in "your head will literally explode." Which it will not, no matter how cool our tables are. Second, I ran out of alt-key codes for superscript numbers, and was too lazy⁴ to look up the HTML codes for a superscript 4.
⁴ Somebody else found it for me.