Exodus: Gods and Kings is pretty powerful, but it might rub a lot of folks the wrong way. It doesn't tell the story of Moses the way biblical literalists would have it be told. (Disclaimer: It's also not the story of Moses that I believe in, but I didn't expect it to be.)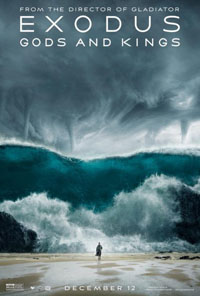 That's okay. It's a pretty good story. And it's a story that rings true in a lot of ways, especially in the ways that the characters relate to each other.
Was it fun? Not really — I'm putting it at #16. But it was beautiful and powerful and I liked it. Best of all, I never once heard Batman noises come out of Christian Bale's mouth. Although Batmoses would have been a cool movie, too.
On a strictly literary level, Batman and the other comic-book superheroes are very similar to the gods and heroes of ancient myth. They're part of a modern mythic pantheon, and this is a very flattering way to justify why their origin stories and key adventures keep getting re-told (much more flattering than the "we're too scared to take chances with a new story" version). In that light, Exodus: Gods and Kings is a Moses movie just like The 13th Warrior was a Beowulf movie, and Troy was about Achilles.