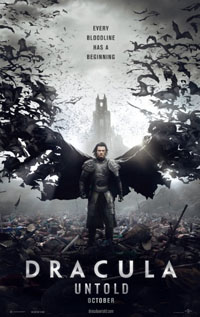 I didn't go see Dracula Untold on opening weekend because the reviews were bad. Maybe my low expectations helped, because it didn't seem anywhere near as awful as its early reviews suggested.
That's not a huge vote of confidence, I know, so let me say this: I enjoyed it.
No, really!
It's kind of a superhero origin story, complete with the "bitten by a…" and the "look what I can do!" underscored by "with great power comes great responsibility." Also, comic-book physics, at least insofar as the portrayal of the inertia of a swarm of bats goes. And, you know, pretty much every vampire ability on display.
Dracula Untold comes in at #20 for me so far this year, which puts it squarely between my thresholds of "awesome" and "disappointment." In terms of your movie dollar, however, seeing Guardians of the Galaxy again might be more rewarding.