Obligatory Disclaimer: The Maze Runner is based on a novel written by my friend James Dashner. I have a policy about reviewing books, which basically says I only write a review if the book is one that I can recommend. Movies, though, I'll review if I've seen it and have something to say.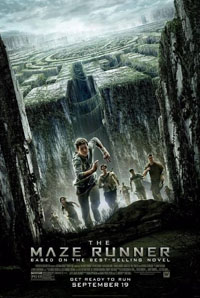 With that out of the way…
The Maze Runner (movie) is a pretty good character drama with science-fiction thriller elements in it. I enjoyed it, but it didn't clear my Threshold of Awesome. 
Why not? Well, because it's not my kind of story. And here's where my policy kind of trips me up — I think that The Maze Runner (movie) is a very faithful adaptation of Dashner's best-selling novel, but the novel itself isn't really my thing, mostly for stylistic reasons, and now I have to tell you about a book I don't actually love.
I think that the conceit of the maze itself, in which a tiny community of young men and boys is trapped at the maze's center, is super-cool and very engaging. The film brings the maze to life in ways that fans of the book will probably love, and though the events of the book are necessarily compressed, the film gets those right, too.
But I don't love the style of storytelling in which volumes of new information are dropped on the reader or viewer right at the end. Sure, in real life there's not much foreshadowing for things that are unexpected, but that doesn't satisfy me in a book or a movie. I want "surprising yet inevitable," not "whoa, where did THAT come from?" I like the final twists and reveals to be easily explained in one or two sentences in which everything comes together, rather than long explanations which raise as many questions an they answer.
I also love settings that fully explore the ramifications of their "what ifs," and The Maze Runner doesn't really do that. There's a little bit of a Lord of the Flies feel to the glade in the center of the maze, but the glade is nothing like what I imagine an all-boy subsistence community to be like, especially not with the arrival of a girl.
But hey, I had the same problem with The Hunger Games, and those books and films have entertained a lot of people. Your mileage may vary, and now you have one of the key points of variability.