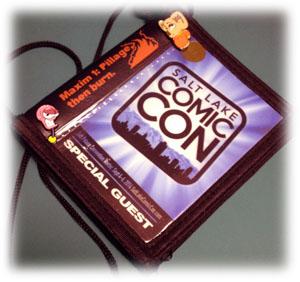 Salt Lake Comic Con is a great show.
It has some problems, and some of them are big and painful, but the good outweighed the bad for me this time around. I still think the registration issue is something the top brass need to fall on their swords for (last I heard they were blaming subordinates rather than admitting their own egregious failings in the matter) and the convention center itself is not nearly as pleasant a place as the San Diego, Phoenix, or Indianapolis convention centers with which I'm familiar, but at the end of the show there were happy crowds, happy vendors, and I had an energized sort of exhaustion that said "this was worth it" rather than "I don't know why we do these things."
If I point out problems, it's because I want the show to be better, but I can now state with confidence that it's a really good show.
My panels were a blast, and had good crowds. The panel discussions weren't quite as erudite or deep as the panels at literary-focused genre events like LTUE, LDStorymakers, or the GenCon Writer's Symposium, but those are events for writers, and the SLCC panels were, for the most part, events for fans (some of whom are writers, but they're a small minority.) The important thing for this show is that the panels were fun–at least the ones I was involved in. I did catch a little mumbling from attendees coming out of one panel or another along the lines of "I was hoping it would be about…" or "I wish they'd covered…" but I think that's as much an issue of setting the audience's expectations as it is about delivering the goods.
Sandra had good panels as well, and that's important to me. As a micro-publisher, editor, designer, and writer, she has at least as many important things to bring to a discussion as I do, and at Salt Lake Comic Con she got to bring 'em, and she came back from her events at least as energized as I did.
Some key differences between SLCC '14 and SLCC '13:
The aisles got wider
The Expo Hall's hours got shorter
The Expo Hall's hours didn't get changed at the last minute
Security was managed professionally
This meant that the crowds flowed well, even when the show was full, and that vendors like me could have a reasonable 9-hour work day, allowing us to keep that game face on without needing to chew helpless, innocent attendees' faces off when the last layer of battered veneer of our humanity finally sloughed away. It also meant that I was able to spend time with fellow professionals after floor hours. I had a delightful dinner with fellow cartoonists, including Pat Bagley, Dave Kellett, and Jake Parker, and was able to have a decompression dinner Saturday night with Brandon Sanderson, Dan Wells, Sandra, and Brian McClellan (who was a great booth-mate.)
Oh, and we made decent money. Return-wise, the first SLCC was the worst large show I have ever done. The second barely broke even. This one, though, made twice as much for us as the first two put together. Finally I can look at the event with confidence and start planning my year around doing it regularly.
Admittedly, I don't know what the average attendee's experience was. I think most folks at the show were there to stand in line for celebrity signings or photo-ops, and that's way outside my area of interest. The fans who showed up at my booth were happy, and they were fun to talk to.
How big was it, really? Here's what it looked like empty, as seen from the Green Room: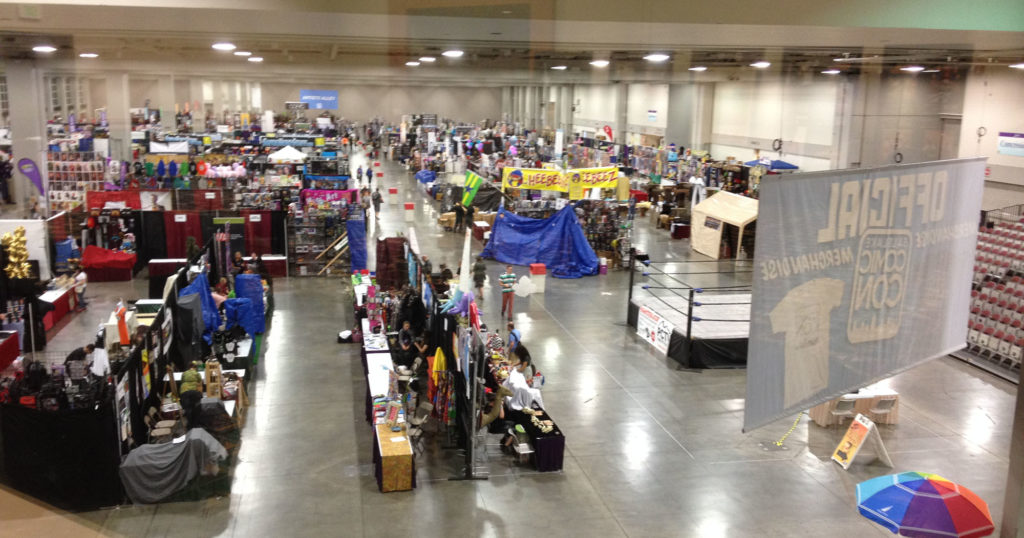 These pictures obviously don't do the crowds justice. From my booth, which was in the southwest corner of the south wing, it took about 15 minutes to get to booths or events on the west end of the west wing… unless I flashed my exhibitor's badge and slipped out and back in through the loading docks.
Here are the big hurdles that Salt Lake Comic Con needs to clear for their next event:
Get everybody into the hall within 3 hours on Thursday. Issue badges via mail, and open the on-site registration on Tuesday and Wednesday.
Attendee names on badges, at least for the adults, the vendors, and the professionals.
Roll out carpet. This will reduce noise, reduce fatigue, and class the event up a LOT. (AFAIK, right now the Salt Palace does not own enough carpet to do this.)
Lock in the panel schedule 60 days in advance.
Print a meaningful map, and hang better signage in the Expo Hall
But the show was wonderful, notwithstanding the problems I've described. Sandra and I have already begun planning how best to exhibit and attend the "Fan Experience" version of this event in April.