I can't really say that I enjoyed Sin City: A Dame to Kill For, but I paid attention all the way through. This was one of those films which proved objectionable pretty quickly, but which was chock full of visual and structural storytelling techniques I wanted to absorb.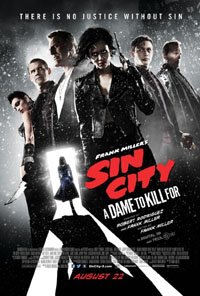 I guess my experience was a little bit like stepping up really close to a painting in order to see the paint rather than the picture.
Regarding the picture: the movie earns its R rating with violence, nudity, language, and drug use. The final line of narration tells us that Sin City leaves its stain on everyone, and that pretty much summed up my experience.
Regarding the paint: Structurally, it's a neat sort of palindrome. Story A begins, Story B begins, Story C begins and ends, then Story B ends and finally Story A ends. Visually, it is brilliantly composed. We move freely from hyper-realistic black-and-white scenes to heavily stylized silhouette animations, and we cover lots of middle ground as well. Each shot works in very strong support of the story. And as stories go it's horribly dark, and it's never actually happy, but it's powerful and well told.
I saw the 3D version, and I think the 3D added a lot. Looking way up as naked Josh Brolin gets blown through a window, and then tracking him down… well, the 3D really sold that for me.
Sin City: A Dame to Kill For was not really that much fun for me, not in the usual sense, but I reveled in the art. It clears the Threshold of Disappointment, but only barely. I may study stills or scenes from it at some point in the future, but I never actually want to watch it again.