Last week we discovered that Vaeron's cloudscape civilization—massive flying cities kept aloft on the backs of dreaming gods—is kept intact at a price: human sacrifice is what keeps the dreamers asleep, and if they wake up, they'll destroy the world².
At least, that's what we've been told…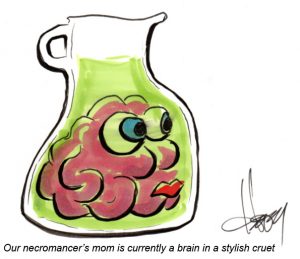 I don't know how tonight's session will go, but I think one of our activities will be deciding whether or not to burn it all down.
The show starts at 9pm Eastern, and in addition to all the fun role-playing from Dan, Brian, Mari, and me, there's an art-cam! And I now have some markers that do GLITTER. 
Join us!³ Follow and subscribe at twitch.tv/typecastrpg!
---
¹ Assuming "Tonight" is Tuesday night, January 21st.
² Yes, we've all read and been influenced by "The Ones Who Walk Away from Omelas," by Ursula K. LeGuin.
³ If you watch the live show, you can participate in chat and suggest things for me to illustrate.